Follain's officially back NYC! Check out the Follain Clean Beauty Clubhouse at Fivestory through January 2018. Whether you're looking for a great new lipstick or the latest non-toxic serum – Follain's got you covered just in time for fall. And as we all gear up for the holiday season, Follain's got the perfect clean beauty items for you and your entire crew!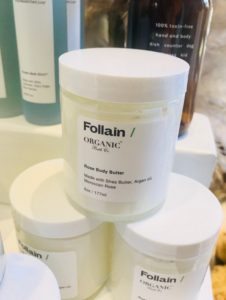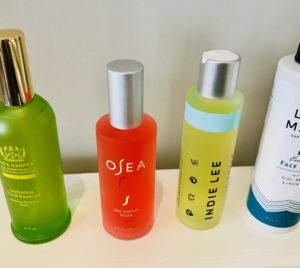 Follain First Impression
Wow! I am I in clean beauty heaven or what?! Because Follain really pulled out all of their best of the best products across the board. And the boutique is staged like a dream. It's like entering into the home of your favorite beauty spa maven – think Carrie Bradshaw with an eco-bohemian twist. The shop is packed from wall to wall with everything you need to take your beauty game to the next level! Not to mention they've got a new exclusive line of Follain collab products. My personal fave is their new all-purpose Refillable Hand + Body Soap. You can use this non-toxic find on just about anything – body, dishes, clothes, even your dog – plus it's refillable.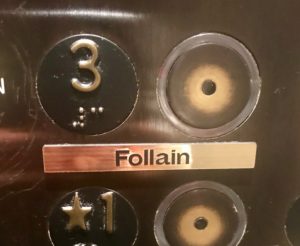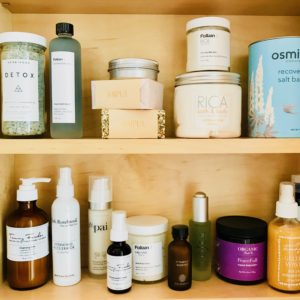 Where To Start
Follain's main atrium is your makeup sweet spot. There you'll find your perfect shade of lipstick, the world's best luminizer, and a slew of other must-have clean cosmetics. In the next room over you'll find everything under the sun in skincare, personal hygiene, hair, and bath-works. This is where you'll see all the latest products for your next at-home-spa date. There are oil and water-based cleansers, non-toxic toners, mud and milk masks, herbal exfoliants, hydrating moisturizers, must-have deodorants, dream bath elixirs and so much more.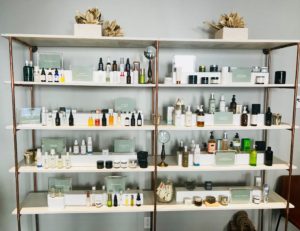 What To Get
Well, I would say EVERYTHING, but hey I'm on a budget. If you've got combination oily skin like me that dries up like a prune in the winter, you'll want to try Josh Rosebrook's Vital Balm along with Osea's Hyaluronic Serum or Soapwalla's Restorative Face Serum for extra hydration. If you're looking for something a little lighter, Squalane Facial Oil is an excellent choice. For sensitive skin try Pai Calming Day Cream or Pai Rosehip Oil because this beauty brand is known for its ultra-calming formula.
Cleansers
Exfoliants
Top exfoliant award goes to Josh Rosebrook's Active Enzyme Exfoliator – it's herbal grit is a game changer. Not to mention it's so popular that it's completely sold out online. So get it in the Follain pop-up shop while it lasts.
Masks
I'm crazy about masks – so it was nearly impossible for me to limit my list but I'd go for these three masks in a heartbeat:
My honorable mentions are Tammy Fender Epi Peel (mild exfoliant meets mask) and Tata Harper's Resurfacing Mask (non-chemical face peel effect).
Bath & Body
For my body, I like rich, creamy, luxurious products and absolutely anything that makes for a good bath. For all the bath fanatics out there here are my top selects:
Makeup
I'm no makeup artist, but I love a good lip balm and nice blush. RSM is always on my list, but I really love ILIA's Multi-Stick and Kjaer Weis's Cream Blush. Both brands have the perfect shades to take you from day to night in a flash. They are light-weight, and with ILIA you can use the multi-stick on checks, lips, and eyelids. Not gonna lie, I'd use Kjaer's Cream Blush as a lip tint, too – the texture is light and versatile. Now back to the kissers, for a little gloss and a fantastic lip liner check out Kari Gran's Lip Whip – Tinted Peppermint and ILIA's Lip Crayons – believe me, you won't be disappointed. When it's time to take it all off try Ursa Major's Face Wipes – they'll get your face clean as a whistle in a snap.
Still not convinced? Hop over to Follain and check it out for yourself, lovelies.
Before You Leave Follain
Follain is a hands-on beauty boutique, so sampling is encouraged. If there's an item that you just can't wait to try there's even a spa-themed bathroom to test each eye-catching product.  But that's not all, not only can you test in-store you can take a freebie or two home. The boutique has pre-packaged samples of some of its top brands. Plus, mini-containers in case you want to bring home a sample batch of something you love. Last, but not least, Follain's Clean Clubhouse also has an in-house make-up artist, Dani Levi. If you have a hot date or you're just curious about how to create a fresh, clean look contact Follain's make-up expert for an appointment today.
Mini make-over anyone? Come on over to Follain #cleanbeauties