Let's face it – fall is here, and winter is not far behind. That means temperatures are dropping and before you know it it'll be time to bundle up. So instead of fighting winter's frosty bite – I just heat it up at home sauna-style. My go-to indoor luxury is my ultra-toasty HigherDOSE Sauna Wrap. Now, don't get me wrong – I sauna wrap all year round, but fall and winter mark the height of my wrapping season.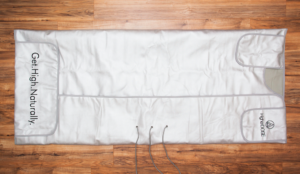 Sauna What?
First things first, my obsession with in-home saunas started with my desire to get Kimberly Snyder's Infrared Sauna. Kim's sauna is legit – it's a little sauna box that you can climb into every day. It's cute and practical but a bit bulky for my NYC dwelling – not to mention the $2k+ price tag. So I put off my lofty sauna dreams until I came across HigherDOSE's (HD) sauna wrap. The HD version had all the bells and whistles I was looking for, and it was more compact. Plus, it was a fraction of the cost I'd have to pay if I got the lovely KS kit. If you have the moola and space Kim's sauna is a great item, but for a tighter budget and a smaller space, I recommend HD's nifty wrap. While the HD wrap still pricey (at $6oo) it's more affordable if you find a special offer. And that's exactly what I did – I saw an online promotion and got my perfect gift to self. Once my wrap arrived I started using it weekly at least 2-3 times. I think it was one of my smartest purchases of 2017.
I'm a spa, DIY, pamper-yourself kind of person. I have slight curvature of the spines, so the wrap does wonders on my back. And when I go hard at the gym or try to pretend I'm a Tough Mudder contestant – my wrap is the perfect companion. Frustrating day at work? Wrapping. It's also become a wellness tool because I do my crystal healing sessions, at times, in my sauna wrap.
Sauna Wrap 101
Control Panels/Settings
The HD wrap has settings that reach from 77 F up to 185 F (30-85 Celsius) using infrared technology. The unit has a three-pronged electric cord that runs on 110 volts. The actual size of the wrap is 70 in. x 70 in. – perfect for my long limbs. The control dial for the wrap has panels that heat up the upper body, mid-section, and lower body – each area can be set at individual temperatures. The recommended high-intensity temperature is 80-70-80 and 40-60-40 for a low-intensity treatment. I usually use a higher setting for my lower body and a low/medium temperature for my upper body (40-60-80). You can dial the timer up to 60 minutes but I usually go for a 30-45 minute session.
General Tips/Cleaning
The interior of the wrap is a gentle, waterproof material that keeps the heat inside. In terms of what to wear, it's best to put on loose-fitting clothing that isn't too heavy or thick – I like putting on a pair of loose-fitting yoga pants and a tank top. Even with the temperature on high I usually don't sweat enough to get the interior drenched – but I use a soft cloth and a little essential oil (like tea tree, lemon, or lavender) with a water to cleanse my wrap inside after using it. I make sure I let the wrap cool a bit, (about 15 minutes), before doing the cleaning step. When I'm finished with the cooling and cleaning process I wrap it up and store it in a large basket.
Wrapping up – Benefits & General Thoughts
So let me wrap it up for you. The infrared light in the wrap is safe to use and has helped me in so many ways.
Increases deep relaxation
Aids pain relief
Helps with weight loss
Promotes detoxification
Helps Reduce cellulite
Rejuvenates skin cells
Boosts immune system
Promotes healthy sleep patterns
Helps reduce elevated blood pressure
Promotes restabilization of metabolism
For me, this wrap is just what I need for my weekly wind down – in fall, winter and all year round.