There are few better things to do on a fall day than spending time in nature's glory. If you're in the mood for fall colors and majestic hikes you'll love a day trip to Mohonk Resort in New Paltz, NY. This hidden oasis is just a car ride, bus trip or train ride away from the city. By car or bus, it's only an hour to an hour and 30 minutes away.
All About Mohonk
The grounds have over 85 miles of hiking trails, gorgeous lake views, botanical gardens, a horse stable, tennis and basketball courts and much more. Although entry to the grounds requires a fee, you get full access to the hiking trails and gardens. There are additional package deals for dining, horseback riding or boating. For my recent trip, I opted for the horseback riding and dining package which included exclusive access to all hiking trails and the garden areas. Even though it was a paid visit, it was well worth the $90. My horseback riding package had a 45-minute ride and a lunch or dinner. For me, it was a triple threat – hiking through lush greeneries, dining on delicious treats, and galloping on horses with well-trained staff.
When to go
Post-Labor Day the grounds are relatively quiet which makes it feel as if you have the entire 2,200-acre estate to yourself. Instead of staying overnight or for a few days I recommend a day trip to test your preferences and avoid the hefty lodging cost – which starts at over $300 a night. Excursion scheduling is done via phone only, but the agents I spoke to were helpful and resourceful. There's a 72-hour cancellation or rescheduling window if you need to change your plans or can't make your date. Overall the process was easy, and things went smoothly.
Getting There
Getting to Mohonk's grounds was a breeze, too. Since I'm car-free, I took the Trailways bus to New Paltz from Port Authority Station. If you schedule your trip during midweek (Tues-Thurs), the special round-trip fare is $37 (and regular pricing is $41). If you are a student (with a valid I.D.), you can get 15% off of your bus ticket when purchased at Port Authority. Buses run every hour in both directions from 7 a.m. to 11 p.m. most days (check the schedule for full details).
Trailways in not the only option for getting to New Paltz, but it was my most convenient option. The Metro-North train also runs to New Paltz, but you are dropped off about 30-45 minutes outside of Mohonk Resort calling for a longer more expensive taxi ride to the grounds. The New Paltz bus station is only about 10-15 minutes away – shorter and cheaper. The taxi ride is about $10-$15 (including tip). There are usually taxis waiting at the station and information inside the bus terminal about local cab services. However, my recommendation is to call a few minutes before you arrive so that your taxi is waiting to take you straight to Mohonk. For reference, I took New Paltz Taxis (845) 255-1550. I had a great cabby who was familiar with the area and even gave me some tips on which hiking trails to explore.
What to Do
Once on the grounds, there is a quick check-in, and then you are free to explore. If you sign up for horseback riding, you should arrive at least 15-20 minutes before your ride. I wanted to familiarize myself with the grounds before my ride, so I showed up about an hour before my 11 a.m session. There were about 8-10 people in my group, which I preferred. However, if you're an advanced rider or you just want to ride alone, you can also opt for a solo package. My horse, Ginger, was spirited and had quite the appetite. He stopped a few times to nibble on shrubs, but about halfway through the course I was able to get him to focus on trotting un-interrupted.
Next, I made my way to the botanical gardens to check out the local greenhouse. I was away for most of the summer, so my friend babysat my plants. Unfortunately, many of them did not survive. So I was in desperate need of new plants. Mohonk's resident horticulturist, Diana, had me covered. She walked me through the various varieties and helped me select plants that would thrive in my NYC apartment. The plants were reasonably priced and surprisingly lower than my neighborhood florists. I was even able to put my new plants on hold while I continued taking in all that Mohonk had to offer.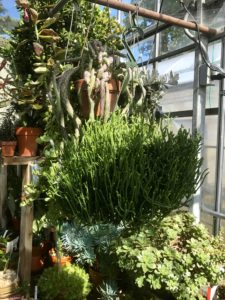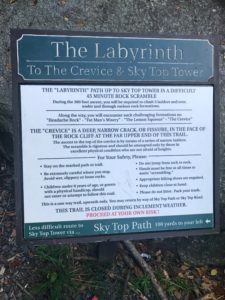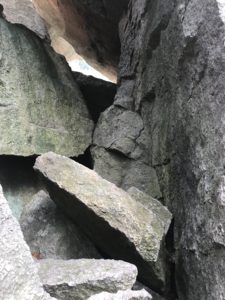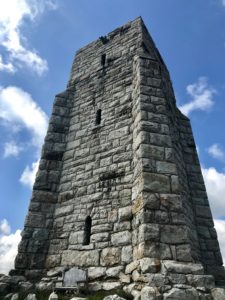 The Hike
Next, I rolled up my sleeves and eagerly started my first hike on a curvy trail called The Labyrinth. At first, this hiking juggernaut put me on edge – it's a midrange hike with some of the tightest nooks and crannies on the grounds. I'm a novice hiker, but I always enjoy challenging myself. While there are some very narrow spots along the trek, nothing is insurmountable. However, you should be very cautious climbing in shady areas because the fall dew makes the boulders slippery to mount.
If you're up for the challenge, I highly recommend this uphill screwdriver to the top of Mohonk. At the highest peak, there are several overlooks and a tower at the summit. The stunning views beautifully frame New Paltz and the Hudson region, in general. On a bright day, you can see miles of dense woods and valley pastures.
If you're up for the challenge, I highly recommend this uphill screwdriver to the top of Mohonk.
By the end of the hike, I'd worked up an intense sweat, so I recommend packing a change of clothes. It's also a good idea to bring a water bottle and a snack (in case you get munchy on hikes). Speaking of food, one of my last stops of the day was a late lunch at the Carriage Lounge. My meal included a beverage, an entree, and an appetizer or a dessert. And of course, I opted for the later (lol). I had a crab cake, (yes, it was an "ish" moment), with a side salad and a flourless chocolate cake. Both hit the spot and left me full and ready for my next adventure exploring sunset on the lake.
Before heading outdoors for my last foray, I discovered complimentary afternoon tea and fresh baked goods in the main lounge. Although I had just finished my meal, I still indulged in ginger tea. Plus, I packed away a few snacks for my trip home.
Final Notes
After an action-packed day, I took my last moments to relax into a leisurely stroll around the lake. As my day came to a close, I watched rosy colored clouds drift by as the sun melted into the horizon. It was just as I'd hoped –  the conclusion to a perfect getaway to Mohonk.