Whenever I visit my doctor, I'm always leery about getting a shot. But today I ventured out of my comfort-zone and voluntarily got my first Nutri-Drip IV vita-boost.
Getting Over the Gitters
My Nutri-Boost IV Experience
Admittedly, I was nervous about the poking and prodding, but I felt calm as soon as I started talking to my nurse. He was warm, reassuring and made sure that I understood the procedure from start to finish. Plus, he went over the benefits of some of the Nutri-Drip options.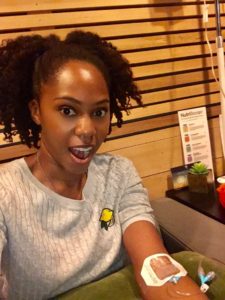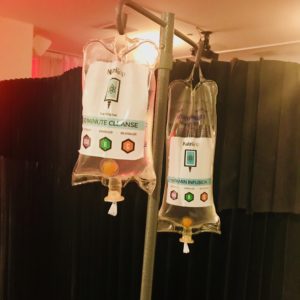 I choose the popular NutriGlow as my nutrient enrichment. It was the most cost-efficient selection ($79 with a discount), and it was loaded with the super antioxidant, Glutathione. Glutathione is a naturally-occurring molecule in the body that helps with the detoxification process. Leafy greens like collard greens, kale, cabbage or savory onions and garlic boost glutathione production as well as vitamins B12, B6, and folate.
The Nutri-Drip process is identical to a standard IV process for a saline drip. My session lasted about 30 minutes, but some treatments last up to an hour. My nurse had a gentle touch and painlessly inserted the IV. The first drip was a bit cool, but after five minutes I barely noticed the sensation. When I finished, the removal process was simple. I got my nifty band-aid, and I was out the door and on my way to the next adventure.
Conclusions
Now, if you have a healthy lifestyle – a nutritious diet and exercise regularly – there's not much of a need for IV supplements but every now and again you may want a boost. Nutri-Drip proved to be a helpful way for me to increase my nutrient intake. Plus, it improved my energy level and complexion. My skin tone was more even and brighter. More importantly, I felt as if I had a little boost of energy that carried me through the next three days.
So, would you be willing to take a prick for a health boost? Have you tried the Nutri-Drip? Comment below.